Maintain purchase, redirect workflow and stabilize vascular access during complex interventions. StandTall 25cm allows you to take control and redirect workflow back to the operator.
Making A Difference
StandTall corrects operator posture, reducing shoulder and back musculoskeletal stresses while maintaining sterility and hand dominance.
Interventional radiologists are routinely challenged with long wire and catheter management during fluoroscopic guided imaging and procedures. Current vascular access sheaths and procedures routinely require multiple access sites and short purchases creating workflow and wire management difficulties.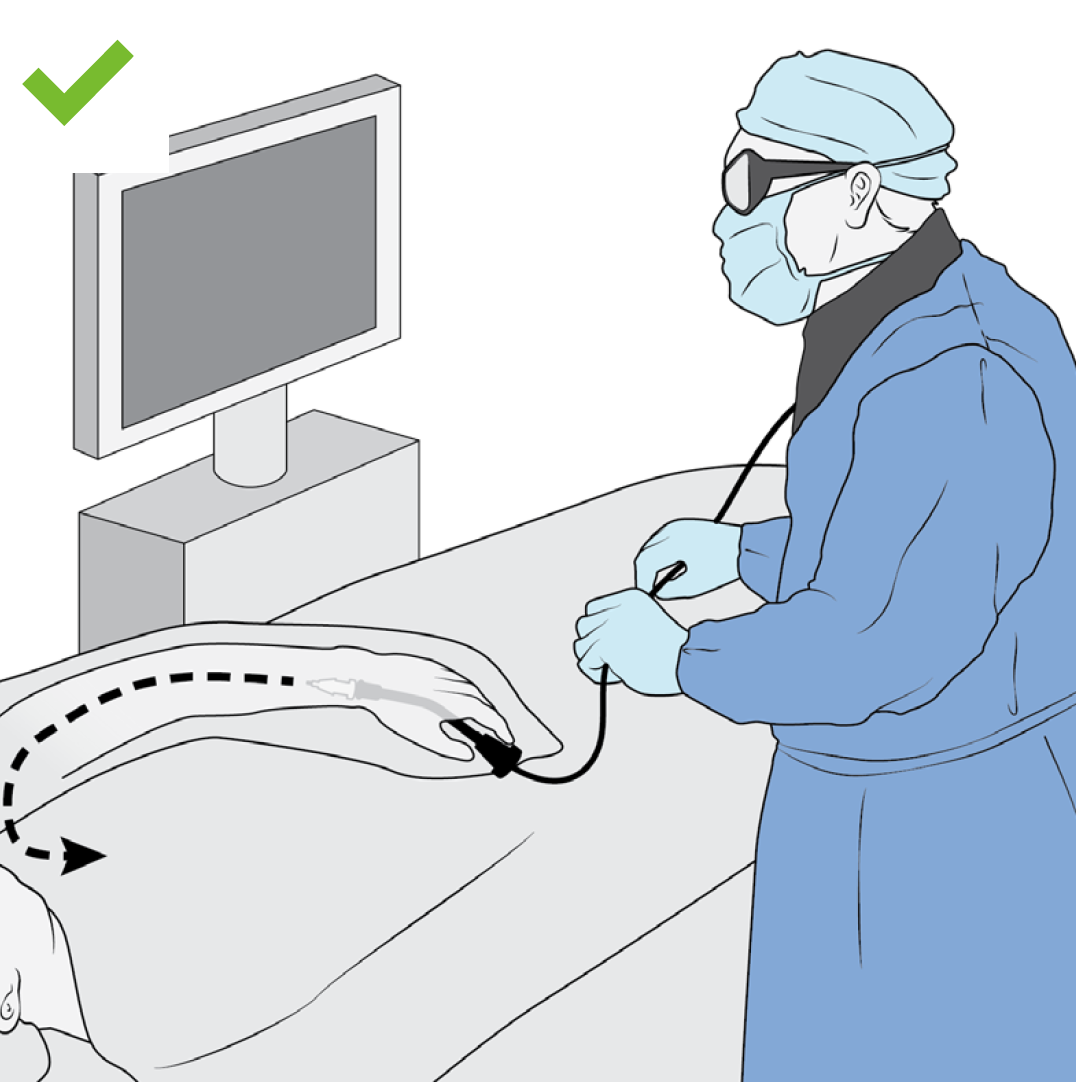 StandTall is an external specialty sheath extender that is designed to overcome the ergonomic limitations of challenging access-site procedures. The measurable advantages of this device provide the physician with a more comfortable posture, thereby reducing musculoskeletal stress and fatigue. StandTall simultaneously decreases radiation exposure while creating a more stable workflow environment.
Simple Set Up, Ease of Use
The universal horseshoe shaped adapter securely attaches the StandTall external specialty support sheath to the vascular access sheath. The adhesive clasp is then positioned to secure StandTall in the optimal place and adheres to the patient or drape. StandTall is then shaped into its desired position and secured onto the adhesive clasp redirecting and stabilizing workflow back toward the physician, staff and standard room set up.
Setting up StandTall is easy and can be done in less than 2 minutes.
Review patient anatomy and conditions to establish StandTall length.
Flush StandTall and then attach to the vascular access sheath via the universal sheath adapter.
Position the adhesive clasp to secure StandTall in the optimal position and adhere it to the patient or sterile drape.
Shape StandTall into the desired position and secure it onto the adhesive clasp of the distal palm.
Pronate and position the left arm across the patient to the right side of the table and secure arm to prevent arm drift.
Additional Product Images
StandTall Features:
FDA Class 2 510k Exempt
Single use
8.3 FR I.D.
Hydrophilic inner lining
Shapeable, flexible stainless steel coiled shaft
Multi-position clasp with adhesive securely attaches to patient or drape allowing for positioning from 0 -180º
Universal Adapter: Compatible with most introducer sheaths including 5-8 FR Terumo, Boston Scientific, Cordis and Medtronic vascular access sheaths and 7-8 FR Cook Sheaths
Not Compatible with Cook introducer Sheaths
StandTall Procedures:
Antegrade arterial puncture for arterial intervention
Arterial-venous fistula intervention
Carotid access for stent, acute stroke or emergent CNS reperfusion
Pedal access for limb salvage and chronic limb ischemia
Morbidly obese patient management
Bilateral access
Popliteal access
Translumbar access
Instructional Video (Live Procedure)