Stay Radial with StandTall and correct ergonomics limitations of left radial access procedures. StandTall corrects operator posture, reducing shoulder and back musculoskeletal stresses while maintaining sterility and hand dominance. Leverage the advantages of left radial artery access with StandTall.
Making A Difference
The many advantages of trans-radial PCI continue to expand. Hospitals are capitalizing on this trend by integrating radial access into their PCI programs, given the significant cost savings and patient preferences. While LRA approach offers significant clinical advantages, RRA has seemingly become the primary wrist access site of choice in recent years. Workflow and patient positioning advantages as well as maintenance of physician right hand dominance likely explains this preference in spite of several limitations of a right wrist approach.
Radux Devices believes the primary aversion to LRA conversion is related to the increased operator stress and higher early radiation exposure rates from leaning over the patient while working from the right side. Alternatively, the physician and staff can reposition room set up to the left side of the patient, requiring use of operators' non-dominant hand for fine motor activity, a suboptimal setup.  StandTall addresses and overcomes these challenges.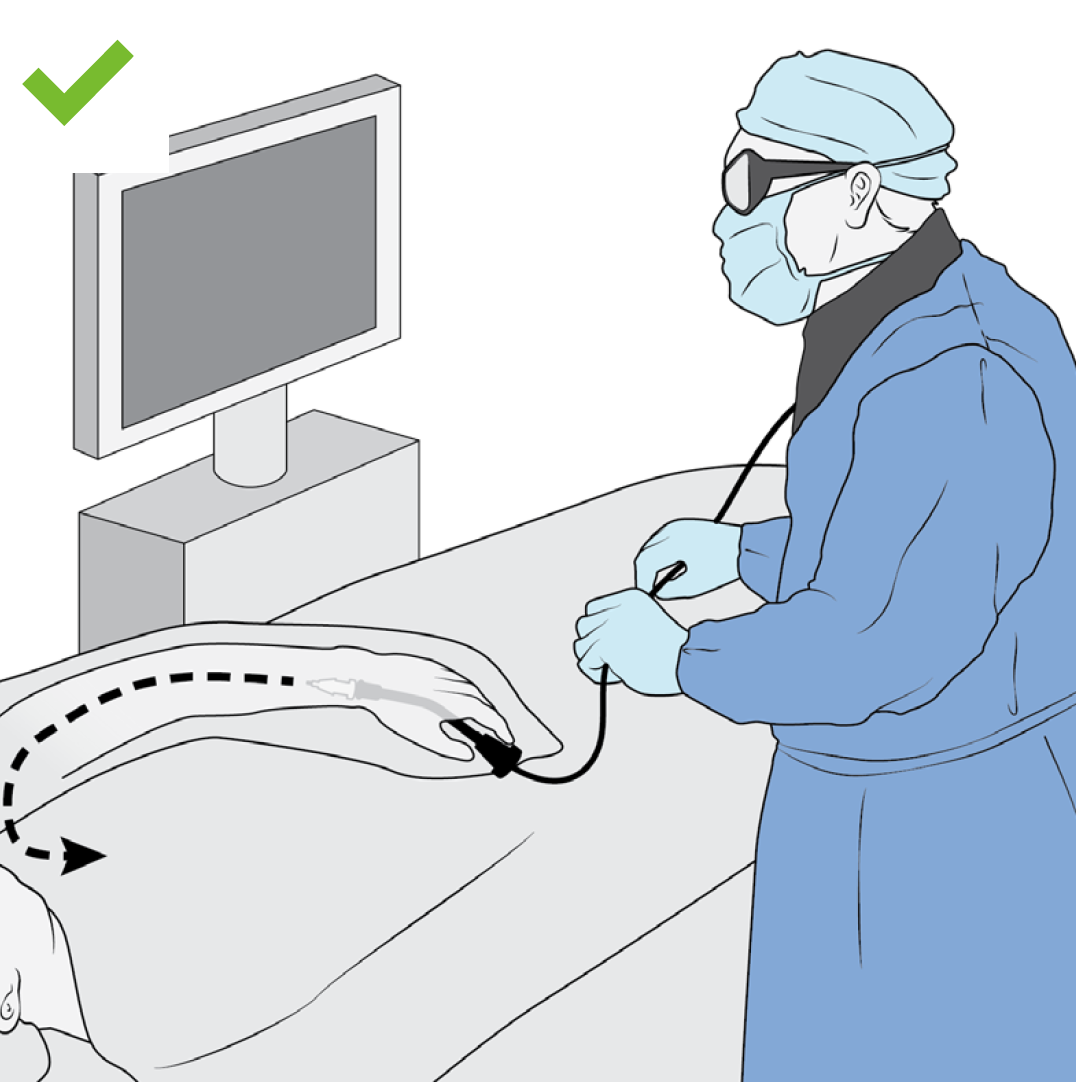 Using StandTall as part of the endovascular protocol will provide the physician with a more comfortable and stable workflow environment while reducing musculoskeletal stress and fatigue when conducting fluoroscopic procedures.
Physician Benefits:
Decreased fatigue and musculoskeletal stress
Increased site access and stability
Improved workflow
Patient Benefits:
Pronated arm position for greater comfort
Faster reperfusion, recovery time
Enables nondominated hand patient option in more than 90% of population
Improved overall procedure satisfaction
Hospital Benefits:
Reduced costs vs. femoral procedures
Reduced post-operative patient management
Reduced physician work-related absences due to MSK-stress injuries
Simple Set Up, Ease of Use
Setting up StandTall is easy and can be done in less than 2 minutes.
Review patient anatomy and conditions to establish StandTall length.
Flush StandTall and then attach to the vascular access sheath via the universal sheath adapter.
Position the adhesive clasp to secure StandTall in the optimal position and adhere it to the patient or sterile drape.
Shape StandTall into the desired position and secure it onto the adhesive clasp of the distal palm.
Pronate and position the left arm across the patient to the right side of the table and secure arm to prevent arm drift.
We also offer StandTall 25cm external vascular sheath extender allowing you to better match an individual patients anatomy.
Instructional Video (Live Procedure)
StandTall Features:
FDA Class 2 510k Exempt
Single use
Sterile
8.3 FR I.D.
Hydrophilic inner lining
Shapeable, flexible stainless steel coiled shaft
Multi-position clasp with adhesive securely attaches to patient or drape allowing for positioning from 0 – 90º
Universal Adapter: Compatible with most introducer sheaths including 4-8 FR Terumo, Boston Scientific, Cordis and Medtronic vascular access sheaths and 7-8 FR Cook Sheaths
Not Compatible with Cook introducer Sheaths
StandTall Procedures:
Antegrade arterial puncture for arterial intervention
Arterial-venous fistula intervention
Acute stroke and emergent CNS reperfusion
Pedal access for limb salvage and chronic limb ischemia
Morbidly obese patient management
Additional Product Images